2 posts in March - 2008

Posted Thursday, March 13, 2008 9:03:35 AM by Jim Babbage
Keep your eyes peeled for the April issue of Adobe Edge because yours truly is making a guest appearance.
Here at CMX as well as in my teaching, I've been focusing recently on using Fireworks to create click-through prototypes, and establishing best practices for one's FW workflow. With the evolution of Fireworks, it's much easier to create these interactive mock ups quickly, allowing more immediate client feedback/approval of a site's design and flow. The beauty of this process is many changes are made early in the design stage, rather than during the coding process.

As designs get more complex, it becomes even more important to set up some best practices for workflow. This helps in case you have to revisit the design weeks or months down the road. It is also very helpful if you have to pass on the design to someone else.
My article on Adobe Edge will focus on the creation of a click-through mock up from a finalized multi-page Fireworks PNG file.

If you've not heard of Adobe Edge before, here's the low-down:
Adobe Edge is a free electronic newsletter that comes out every couple months. It features content for web designers and developers, covering stuff going on at Adobe and the web in general. While the focus is about Adobe and what it's doing to make web-life easier, the magazine also covers things happening outside "the mothership."
For example, February 2008's issues has this list of contents:

Adobe Media Player: Understanding the structure of the RSS feed
BlazeDS and what it means for the developer community
The edge of Flash
Comparing Adobe Flex and Ajax development models
Project profile: Virtual life on the International Space Station
Quick tips for integrating Adobe Creative Suite 3 products
Open source at Adobe
You can either check out the Edge every couple months, or subscribe to it online. I hope you get a chance to read the article and find it useful.

Category tags: Adobe, Designing for the Web, Fireworks, On the Personal Side
Posted by Jim Babbage
Add comment | View comments (0) | Permalink | Trackbacks (0) |
Digg This
Posted Monday, March 03, 2008 10:28:28 PM by Stephanie

Coming up in the next couple months, I'll be at several conferences where I'd love to meet you! This week, Austin beckons! At South by Southwest Interactive, I'll be doing three panels. On Saturday, What Women Need to Succeed will explore women in technology--what it takes to make your mark and succeed in the tech world we love. Are women really different? On Sunday, I'll do a panel with Greg Rewis of Adobe on Responsible Web Design. And finally, on Monday afternoon, we'll discuss where WaSP has been and where it's going in Don't Break the Web.
On April 14th, I'll be presenting a three hour session at the National Association of Broadcasters (NAB) in Las Vegas, In-Depth: Using New Media with Adobe Dreamweaver.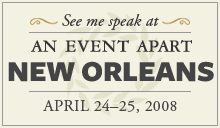 On April 25th, In the great city of New Orleans (right before the first weekend of the Jazz Fest!), An Event Apart will take place. Jeffery Zeldman and Eric Meyer invite you to come join us. I'll be presenting Design Challenges, Standards Solutions. Practical, real-world solutions to common problems. If you mention my code -AEASULL- you'll get a $50 discount. Go for it, it will be a great conference! And plan to stay for JazzFest on the weekend.

On May 5-7, Web Design World Chicago will be in the Windy city. I'm presenting two CSS/Dreamweaver session there: CSS-Based Layouts with Dreamweaver CS3 and CSS Problem Solving with Dreamweaver CS3. You can receive $300 off the price by using the code - SPSUL - when you register!

May 18 & 19, I'll present two sessions at HOW Design Conference. A three hour session, Styling With CSS in DW CS3 will be on Sunday. And Common Mistakes Print Designers Make on the Web will be on Monday followed by a book signing. Yes, Mastering CSS with Dreamweaver CS3 will be released -- finally -- on April 11th! w00t! (Be sure to sign up soon since the early bird discount only lasts till March 28th!)
In Orlando in June, TODCon returns, but we'll talk about that more soon. Come see me, introduce yourself, enjoy all the speakers at the above conferences. Meet you there!
Category tags: Adobe, CSS, Dreamweaver
Posted by Stephanie
Add comment | View comments (3) | Permalink | Trackbacks (0) |
Digg This
2 posts in March - 2008